ROCKUBOT UVC Sterilizer by UV-C Light and Ultrasonic Wave | Auto Disinfection and Cleaning | Playing Music | Wireless Charging | Power Bank | Travel Robot
Buy One and Get TWO FREE N95 Mask Now

UV-C Disinfection on the Mask





Bacteria, as much as you can't see them, they are all over our everyday life. They spread germs and infections, causing us to catch colds and put our health at risk. However, we have a solution to end this all. Rockubot is the new UVC light sanitizer with UV-C light and ultrasonic wave to eliminate virus.
Waukesha Company uses UV-C light to Kill Coronavirus
Ultraviolet light machines are fighting Coronavirus: Here's how

https://youtu.be/WRXZjLk_4Hk


Eliminating germs and airborne viruses from your environment, ROCKUBOT is your safety buddy, the cool and cutting-edge robot that focuses entirely on keeping you safe and healthy in your home or hotels.
ROCKUBOT Unbox Review by Founder Dr. Raphael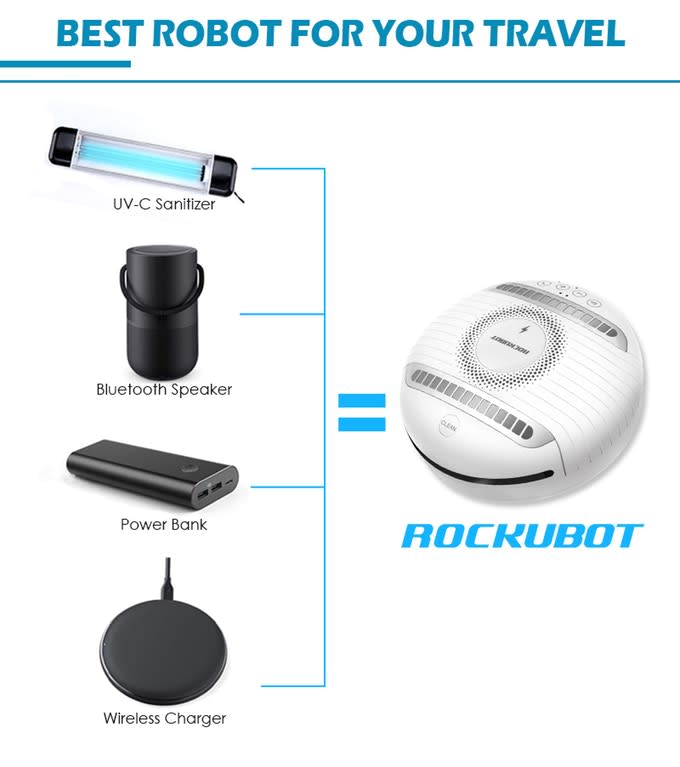 We have engineered several advanced features into ROCKUBOT, all of which combine to make this the most efficient germ-eliminating robot ever to hit the market.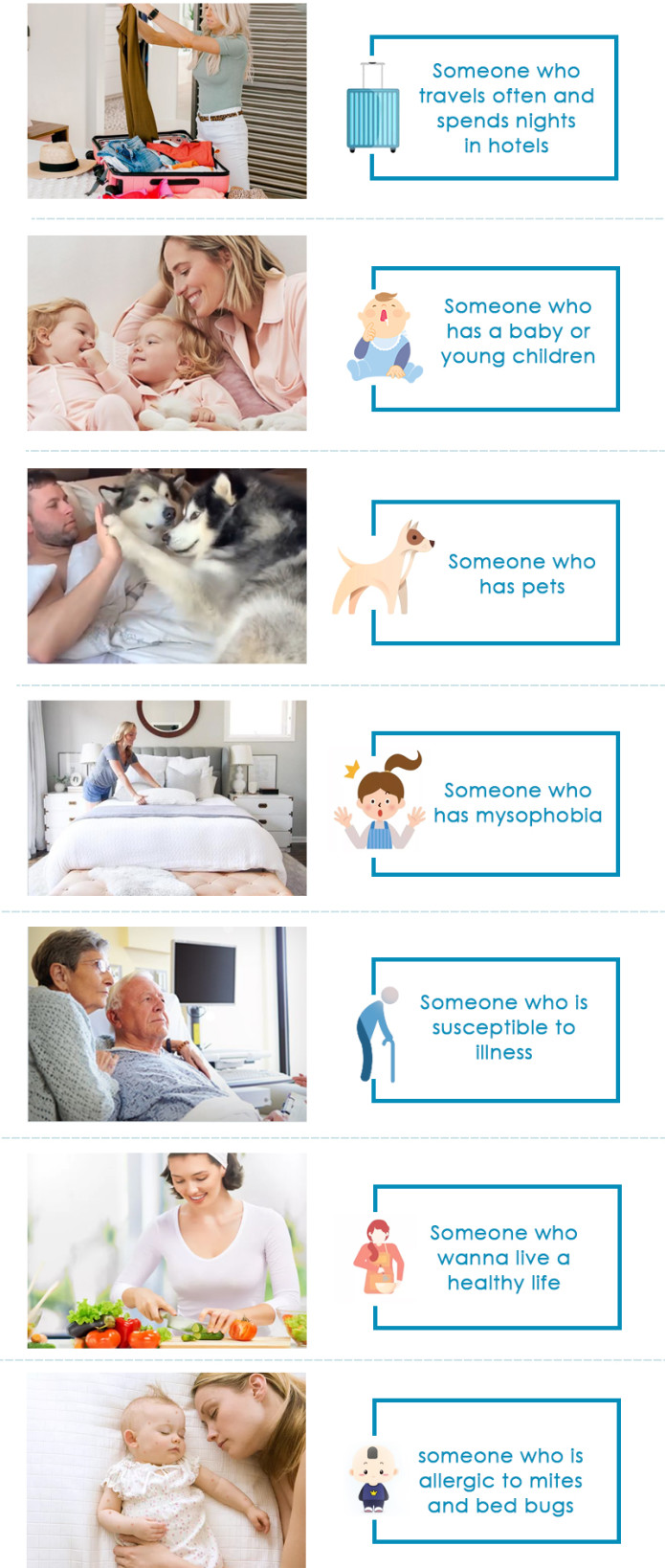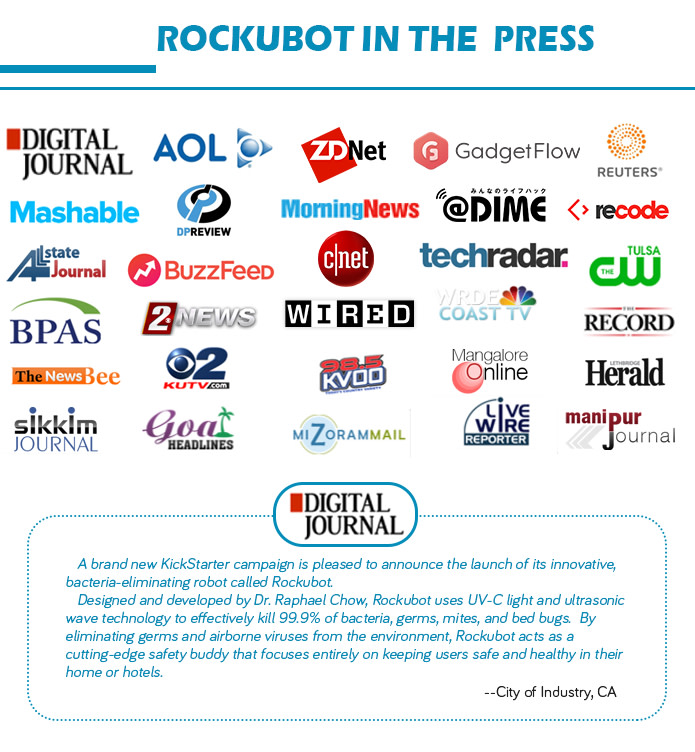 ROCKUBOT functions by attacking bacteria, germs, and mites with its UV-C light and ultrasonic wave technology. It can kill 99.99% bacteria, germs and mites in just seconds. UV disinfecting technology has been around for something like a century, and it's commonly used to disinfect drinking water. You don't see it much outside of fixed infrastructure because you have to point a UV lamp directly at a surface for a couple of minutes in order to be effective, and since it can cause damage to skin and eyes, humans have to be careful around it. Mobile UVC disinfection systems are a bit more common—UV lamps on a cart that a human can move from place to place to disinfect specific areas, like airplanes. For large environments like a hospital with dozens of rooms, operating UV systems manually can be costly and have mixed results—humans can inadvertently miss certain areas, or not expose them long enough.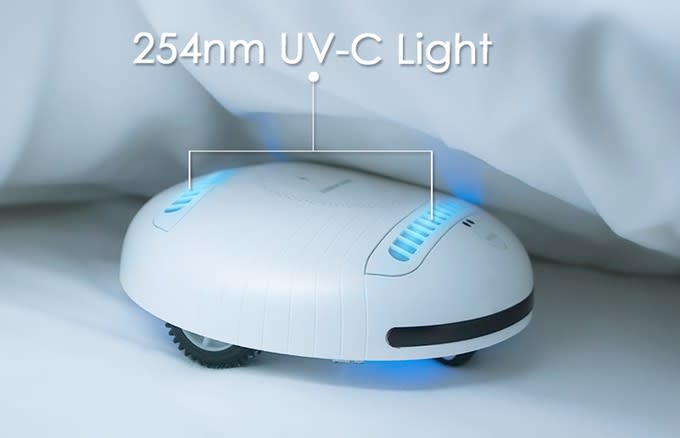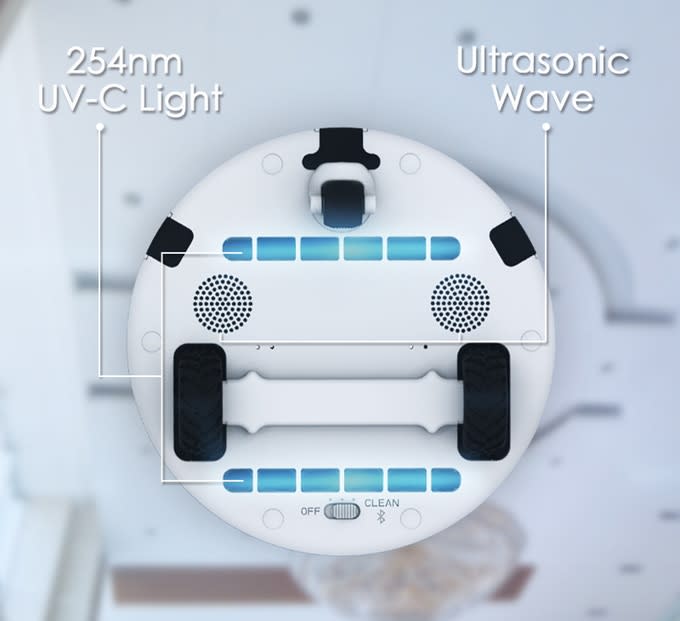 UV-C Light Kills 99.99% Bacteria & Germs
UV-C light has been used successfully as a germicide and bactericide for decades. It can kill or disable the growth of micro-organisms like bacteria, viruses and other pathogens, and it provides a chemical-free alternative to other disinfection methods, like using chlorine. Due to its effectiveness and advantages, UV-C is being used for an increasing range of applications. It is used, for example, for disinfection in wastewater treatment plants, laboratories, air-conditioning systems and even pools and aquariums as well as in various stages of food and beverage industrial processes. UV-C is also used in medical and hospital settings to sterilize instruments, work surfaces and the air.

ROCKUBOT UV-C Effects on Bacteria Killing Test
Ultrasonic Wave Kills Mites in Your Bed
Besides, ROCKUBOT also uses powerful ultrasonic waves to deep clean mites and germs. Ultrasonic wave is a kind of sound wave whose frequency is higher than 20,000 Hz, it has strong penetration ability, can repel the mites hidden deeply in the mattress at the microscopic level. ROCKUBOT can produce variable frequency ultrasonic wave which can control the nervous and auditory system of mites, then control mites sleeping, feeding and spawning. The ultrasonic wave is inaudible to humans but audible to insects, harmless to human and pets.

This robot is FCC, CE, and SGS certified, and as powerful as the technology is, it is also family-friendly. We tested the ROCKUBOT with E. Coli, Staphylococcus Aureus , and Candida Albicans. We also tested 900pcs living mites with the disinfection of ROCKUBOT. There was no mites living after the tests.  The results showed that the ROCKUBOT can kill 99.99% bacteria and 100% mites. We tested the power of the UV-C light of the ROCKUBOT. The Testing equipment showed the power of each UV-C light is 3080μW/cm². This power level can sterilize bacteria and germs in seconds.


Equipped with 24 smart sensors, the ROCKUBOT is able to avoid obstacles, overcome terrains, and detect any cliffs. 
Auto Sensor on Top

Likewise, the
 

cliff sensors

 

prevent ROCKUBOT from taking any high falls. 
When placed underneath the blanket, ROCKUBOT automatically detects and cleans in both directions.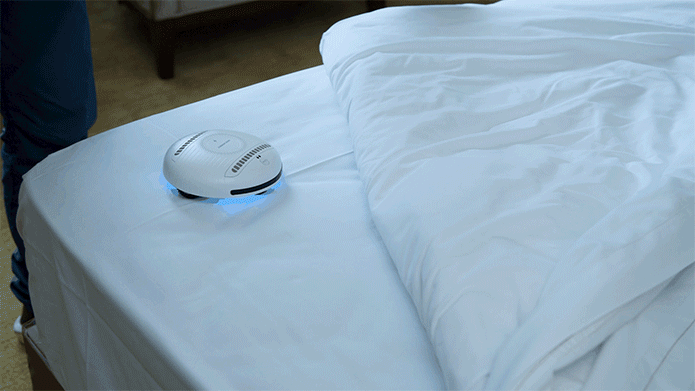 With the innovative technology, ROCKUBOT boasts its smart mapping and navigation which allows the robot to adapt any environment to UV disinfection the bed and room properly with ease.
 

ROCKUBOT is a music-playing robot with Bluetooth 5.0, you can enjoy your favorite music while sanitizing. That's why we call it ROCKUBOT. 



When two ROCKUBOT is paired together, one will play the left channel and the other plays the right. This is made possible thanks to the TWS (True Wireless Stereo) for the two speaker-stereo pairing.

Let ROCKUBOT Rock the World!

To use ROCKUBOT, simply select  automatic mode or manual mode.

Using automatic mode, ROCKUBOT can disinfect and sterilize the beds by following the data with its smart sensors.



With Magnetic design, ROCKUBOT also offers a manual hand-held mode.
Simply snap on its magnetic cover and ROCKUBOT instantly turn into a handheld cleaner.




ROCKUBOT also comes with a 5200mAh battery charging function. With its sleek and compact design, ROCKUBOT can be used as a power bank to charge your device on the go. Charging wirelessly and fitting into any backpack or suitcase, ROCKUBOT is the convenient cleaning option that goes where you go without any extra effort.